Its been a couple of years now and recall a post here about shopping for a new PC around Christmas time.
Personally I went and purchased two little Atom D525 Shuttle Netops for use with Homeseer 2 at the time. I also purchased 2 small footprint Atom D525 Foxconns at the time. I repurposed the Shuttle Netops as desktops / servers and they are still in use today being on 24/7. One is my wife's and the other is my Cumulus weather server.
Foxconn Intel Atom D525's were redone. I put micro PSU power supplies in them and a stock CD / DVD ROM drive and dual SATA 2.5" drive cages in them. This was all documented right here on Homeseer.
One modded Intel D525 Foxconn is still in use today for my HS2 box #1. I took the other Foxconn D525 Atom based motherboard into one automobile and replaced the motherboard in the Foxconn case with a BCM motherboard now serving as HS2 box #2. Note that this is a larger PC case. You could also add a 3.5" SATA drive under the full height CD/DVD ROM. You could also remove the full height CD/DVD ROM and turn that into a 4 drive SATA RAID cage providing you with 6 SATA RAID drives plus whatever you wanted for the 3.5" space occupied underneath the full height drive.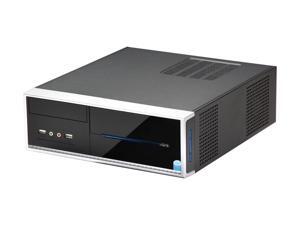 Relating to the CarPC stuff went from this style case (too big)
to this style case (which I also utilize for my test mITX Homeseer stuff). This would make an ideal mini itx case for Homeseer. Two SATA drives fit nicely in these and they are small cases for the DIY person. There are more mini itx low powered and reasonably priced motherboards than there are the new mini pc form factor boards. These boxes are exactly the same size as a mini itx board and about 2X / 3X height sized. I use these now for my DIN mounted carpc's.
Media TV boxes went from this: (still like the looks - purchased a few of these). (PBO was part of this stuff).
Today have three Ubuntu servers running in these small footprint boxes.
Aopen boxes (tiny things).
I haven't settled yet on the Homeseer 3 box and testing a variety of hardware running it. RPI, Intel, AMD, 32/64 bit Ubuntu 12.10....list goes on and on.
Found an interesting article this morning on 12 Mini Intel powered PCs and will post it here. I haven't decided other than getting the most hardware options for my dollar and its Christmas time such that maybe there will be a good deal out there.
Looking for a base here with HDMI, VGA, Audio analog / digital outputs, 8Gb of memory and a dual core CPU. (will just post). I am seeing Chrome Intel Netops now with 2Gb of memory for less than 100. I am leaning on an Intel / AMD powered PC versus an Arm powered PC for the base server running 64bit Linux. I like playing though with the ARM CPUs and will continue to do this. This endeavor though is relating to just one box running HS3 that I will leave alone (same as my HS2 boxes today).
Best deals are bare bones with CPU (you provide OS, OS Media and memory). For HS3 you can purchase OEM W7 for less than $100. I personally am using a modded W8/8.1 that looks like W10 - today or Windows Server (overkill today). For HS3 will be using Ubuntu Server 12.10 (free). The Celeron / Chrome based boxes are most reasonable while the I3 are most expensive. That being said and personally I think the Lenova device is way over priced and last time I went to purchase something on their website it was totally a waste of my time. (but that is me). Rule of thumb for best deals are $100 for a Celeron based mini PC and maybe $150 for an I3 based mini Pc (that said this year noticing no real deals except for a few and much is 30% higher now than it was just a couple of months ago - not sure if anyone has paid attention).
Unrelated but my favorite small footprint with a hard drive NMT is still the old Patriot Box Office NMT. They have a proprietary linux based embedded OS and I was able to chroot these to do a bit more. I personally liked the tiny size and what they could do at the time relating to video streaming et al. One of these running Ubuntu with VGA and Gb and a little celeron would be a great tiny little box. I purchased a few of these before going to the AOpen Digital engines for my XBMC stuff. (note that I utilizing XBMC OS (ubuntu) as a benchmark for a quick running PC with quick video - you don't need video at all to run HS3).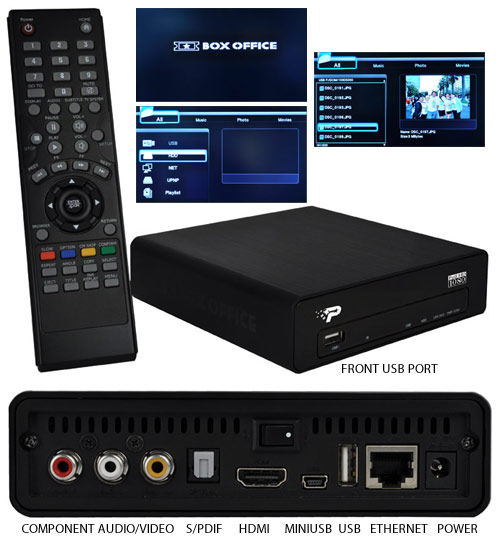 12 Intel-powered mini PCs for $300 or less
I will be adding a bit so it will be more than 12 mini PCs here.
1. Intel NUC kit w/Core i3 Ivy Bridge
Chip maker Intel kind of jump started the recent rush of tiny desktops a few years ago with the introduction of its NUC (Next Unit of Computing) platform. Several of the systems in this list are based on the NUC platform while others seem to be pretty clearly inspired by it.
This model measures about 4″ x 4″ and features an Intel Core i3-3217U Ivy Bridge processor, integrated WiFi and Bluetooth, HDMI, and a few USB ports. Like many of systems on the list, the low price does not include memory or storage.
2. Intel NUC kit w/Core i3 Haswell
Need a bit more power? This is another small Intel NUC system, but it features a faster Intel Core i3-4010U Haswell processor, mini HDMI and DIsplayPort and Intel HD 4400 integrated graphics. The system supports up to 16GB of RAM and has an infrared sensor on the front for use with some remote controls.
3. Gigabyte BRIX w/Celeron N2807
Gigabyte offers a series of NUC-inspired mini-desktops as part of its BRIX line. This is the cheapest model so far, and the first to feature passive cooling for a fanless design. The BRIX GB-BXBT-2807 features an Intel Celeron N2807 dual-core Bay Trail processor which consumes just 4.3W of power, but which should be able to handle HD video playback and other basic tasks. It also supports external displays with resolutions up to 2560 x 1600 pixels and can handle dual-display configurations. This sysem has a single DDR3L 1333 memory slot, a 2.5 inch drive bay, HDMI and VGA output, Gigabit Ethernet, and 802.11n WiFi and Bluetooth 4.0.
4. Intel NUC kit with Celeron N2820
This system's a bit more powerful than the Gigabyte BRIX system listed above, but it also lacks passive cooling. The Intel NUC DN2820FYKH is powered by an Intel Celeron N2820 dual-core Bay Trail processor with a 4.5W TDP and it features 802.11b/g/n WiFi, Intel HD graphics, Gigabit Ethernet, a 2.5 inch drive bay, and support for DDR3L 1066 /1333 memory.
5. ECS LIVA kit w/Bay Trail
Elite Group Systems is a company that usually manufacturers goods for other PC makers, so most ECS-built products aren't actually sold under the ECS name. But the ECS LIVA is an unusual little computer that's designed for you to assemble yourself from a kit. Essentially that means you put the case together and arrange the antennae. This system features 2GB of RAM, 32GB of storage, an Intel Celeron N2807 dual-core Bay Trail processor, WiFi, Bluetooth, a few USB ports, and Gigabit Ethernet.
6. Gigabyte BRIX w/Core i3
Yup, it's another Gigabyte system. This one features a Core i3-4010U Haswell processor and supports up to 16GB of DDR3 1333 / 1600 memory.
It has an mSATA slot for storage and a half-sized mini PCIe slot which is occupied by a WiFi and Bluetooth card.
7. Zotac ZBOX Nano ID63 w/Core i3 Ivy Bridge
Like Gigabyte, Zotac is a company that's probably best known for making graphics cards and other PC components. But Zotac has also been offering mini-desktops for the past few years. The system features an Intel Core i3-3227U dual-core Ivy Bridge processor, support for up to 8 GB of DDR3 1600 memory and has 2 mSATA ports, a SATA3 port, 4 USB 3.0 ports, 2 USB 2.0 ports, an eSATA port, HDMI and DisplayPort, S/PDIF, and a WiFi antenna connector as well as an Ethernet jack. While there's no memory, storage, or operating system included, those specs make this one of the more versatile systems on the list.
8. Zotac ZBOX-ID18-U w/Celeron Ivy Bridge
Here's another Zotac system with a nice array of ports, but this one features a less powerful Intel Celeron 1007U dual-core processor. It has room for a 2.5 inch SATA 3 hard drive or solid state drive, supports up to 16GB of DDR3 1600 RAM, and has 4 USB 2.0 ports, 2 USB 3.0 ports, HDMI and DVI ports, an eSATA port, Ethernet jack, S/PDIF audio, and mic and headphone jacks.
9. Shuttle DS437T w/Celeron Ivy Bridge
Shuttle has been building small form-factor PCs longer than just about any other company on this list, as well as PC cases for people who want to build their own tiny desktops. This system is one of the company's more affordable models. It features a Celeron 1037U dual-core processor, a 2.5 inch drive bay and SATA 3 port, a half-sized mini PCIe port for the 802.11n WiFi card, and a nice range of ports includeing 4 USB 3.0 ports, 4 USB 2.0 ports, DVI and HDMI, Gigabit Ethernet, mic and audio jacks, and an SD card reader. There are 2 memory slots for up to 16GB of DDR3 1333 memory.
The Shuttle DS437T measures 7.5″ x 6.5″ x 1.7″.
10. Asus Chromebox-M004U w/Celeron 2955U + Chrome OS
The Asus Chromebox might
look
like an NUC or BRIX kit. But it's a full-fledged computer that comes with memory, storage, and an operating system pre-loaded. If you don't like Google's Chrome OS you can always
install Ubuntu or another GNU/Linux distribution
. This system features an Intel Celeron 2955U dual-core Haswell processor, 2GB of RAM, and 16GB of solid state storage, 802.11a/b/g/n WiFi, and Bluetooth 4.0. If you don't need a lot of storage (or Windows), this might be one of the best bargains available.
11. Lenovo Q190 w/Intel Celeron Ivy Bridge + Windows
Lenovo is one of the few major PC makers to offer cheap mini-desktops that look nothing like an Intel NUC. The company's Q190 desktops look more like a Nintendo Wii, if anything. The latest entry-level models feature a choice of Intel Celeron 1017U dual-core Ivy Bridge processor, up to 4GB of RAM, a 500GB hard drive, and Windows 8.1 software. There are also models with up to 1TB of storage, and up to an Intel Core i3 CPU, but those systems cost a bit more.
12. Asus VivoPC w/Celeron Ivy Bridge + Windows 8
At first glance the Asus VivoPC looks like an optical disc drive rather than a computer. But this is a little PC with a Celeron 1007U dual-core processor, 4GB of RAM (and support for up to 16GB), a 500GB hard drive, and Windows 8 software. It has 2 USB 3.0 ports, 4 USB 2.0 ports, 802.11ac WiFi, and Gigabit Ethernet. While it's not the most powerful PC on this list, like the Lenovo Q190 this is a fully-functional PC with memory, storage, and Windows software for under $290. At 7.5″ x 7.5″ x 2.2″ this system is a little larger than some of the other computers in this list, but unlike many of the other systems, the VivoPC has room for a 3.5 inch hard drive.
13. EMC-600S Super-slim Mini ITX Aluminum HTPC/NAS/Server PC Case with 12V DC Power Supply for the DIYer.
You can put in any low powered / any CPU mini ITX board in this box and it looks nicer than the one above (IE: here keep HS servers on a rack in the basement and never look at them nor use the GUI much these days).
14. Commodore Amiga Mini PC (2012) - with I7 and low powered.
For those reminiscing about the Amiga and like the look of a mini pc.
15. Xi3 - tiny modular computer -
personally never saw this one.
Quad-core AMD Trinity Series processor up to 3.2GHz
Radeon HD 7660G GPU with 384 programmable cores
8GB of DDR3 RAM
64GB–1TB mSATA SSD
2 – Mini–DisplayPorts
1 – HDMI/DisplayPort combo
4 – eSATAp–III ports (Also supports USB 2.0)
4 – USB 3.0 ports (Also supports USB 2.0)
4 – USB 2.0 ports (12 Ports total including above)
1 – 1Gb Ethernet Port
Power: 30 Watts
External size: 4.270x3.656x3.656–inches
3–year Warranty