A couple of months ago I started using a new Avatar of a tan Border Terrier named "Karma". Then a few weeks ago I began using a different avatar and a small picture of "Riley". I have had a number of people contact me asking about it, so I thought I would share.
We are dog people. People who are also dog people get it - others probably do not.
My wife and I have always had dogs and I've had all sorts of breeds in my life, but I became a Terrier fan over 40 years ago when I got my first, a Wire Haired Fox Terrier named "Gus". We got him a Scottie (Abberdeen AKA "Abbie") as a playmate the next year. Even for a fan of Terriers, Scotties are a tough breed to appreciate. Gus, on the other hand was a gem, smart, energetic and tenacious - the things Terrier lovers like about the breeds. I moved to Colorado in 1987, got divorced and had no dogs for a few years. Gus and Abberdeen were a casualty of the divorce and stayed with my ex.
Fast forward to '93, my new partner and I got a Welsh Terrier. I had always wanted an Airedale so we got "Dinah" in 1995. She was the first of 3 Airedales and the reason we fell in love with the breed. She was joined by "Jack" and followed by "Bo". We lost Bo our latest one at the beginning of February this year to cancer. She was only 9. Bo was one of those once in a lifetime dogs. She was a spark of joy every day, an endless companion and as smart as any dog I have ever seen. Her death was devastating for both of us.
Click on any image in this post for a larger version
Bo at 6 weeks.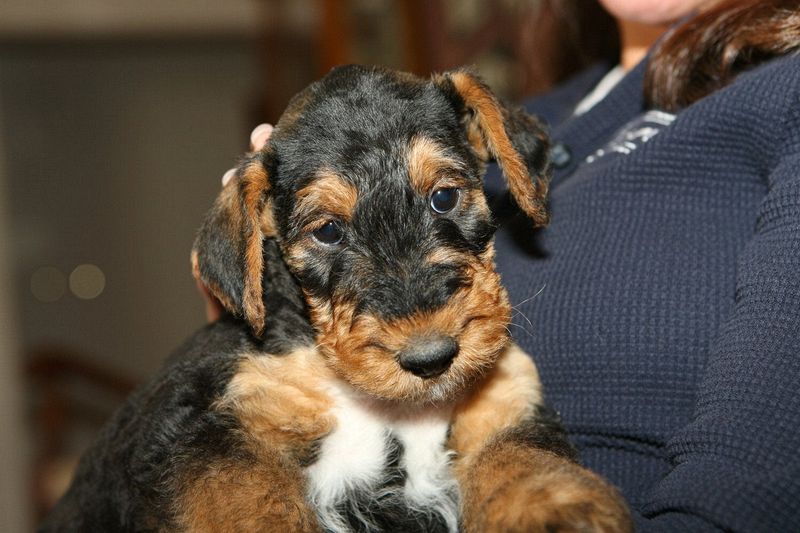 Michelle and Bo when Bo was about 1, Bo could smile for photos.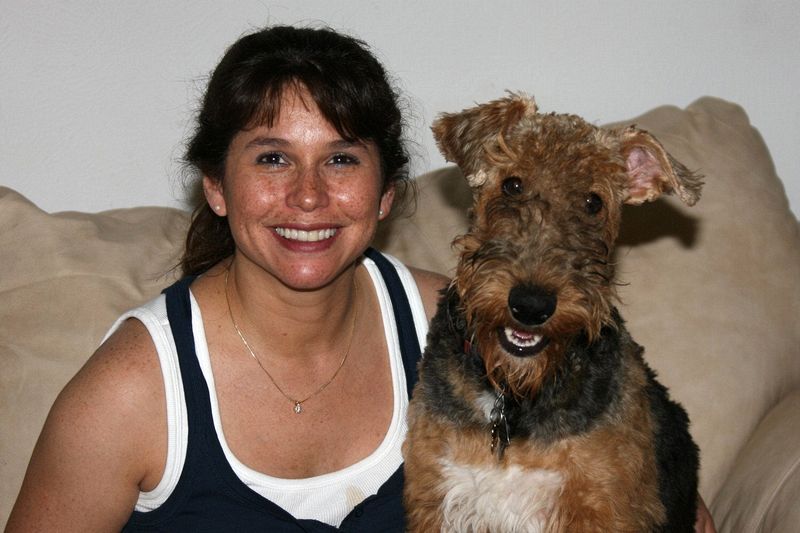 Bo at 2, inspecting a Valentine's cookie bouquet. You can almost read "Honest dad, I'm not going to do anything" in her expression.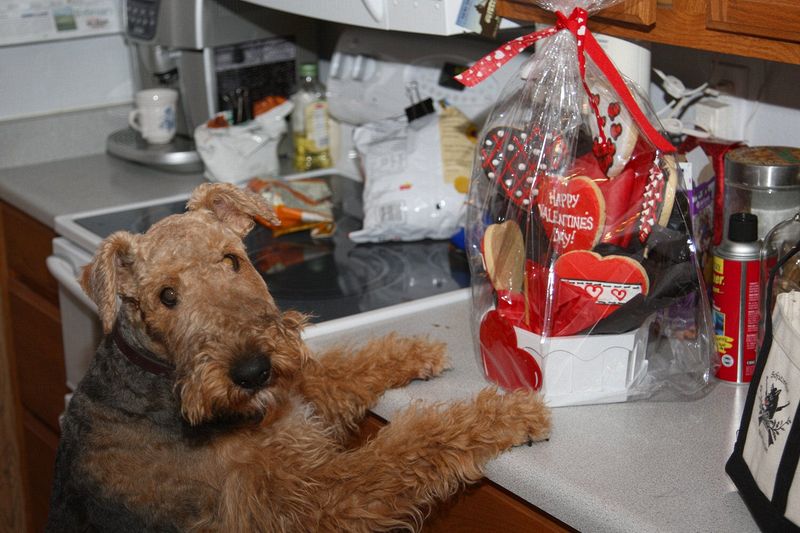 We both wanted to get another dog and I wanted another Airedale, my wife wanted a smaller dog. Airedales are usually 55-75 pounds, the standard for the breed is toward the low end of that range. Bo was 65 pounds and very well-trained, but she could be a handful to get in the car to take to the vet, etc. We finally decided on an Irish Terrier, but had a lot of trouble finding a breeder within a day's drive round trip. We didn't want to ship a puppy or fly to pick one up. We continued our search and began looking at other breeds. Enter the Border Terrier. From what we could find about the breed, it had a lot in common with the Airedale, but in a 15 pound package. We found a breeder in our neighborhood, with a litter due in March.
I started using "Karma" as my avatar, once we committed to getting one from this litter. Karma was about a year old and was from the same mother as ours. When we picked one out of the litter, I changed the avatar to his puppy picture and I also put a small picture of him in my signature. I think that is what prompted some of you to PM or email me.
From Wikipedia:

The Border Terrier is a small, rough-coated breed of dog in the terrier group. Bred as a fox and vermin hunter, the Border Terrier shares ancestry with the Dandie Dinmont Terrier and the Bedlington Terrier.

The Border Terrier was officially recognized by The Kennel Club in Great Britain in 1920, and by the American Kennel Club (AKC) in 1930. The border terrier was bred to have long enough legs to keep up with the horses and other foxhounds, which traveled with them, and small enough bodies to crawl in the burrows of foxes and chase them out so the hunters had a blank shot. The foxhounds that traveled with them were not small enough to do the Border terrier's job.

Appearance

Identifiable by their otter-shaped heads,[4] Border Terriers have a broad skull and short (although many are fairly long), strong muzzle with a scissors bite. The V-shaped ears are on the sides of the head and fall towards the cheeks. Common coat colors are grizzle-and-tan, blue-and-tan, red, or wheaten. Whiskers are few and short. The tail is naturally moderately short, thick at the base and tapering.[4]

Narrow-bodied and well-proportioned, males stand 13 to 16 in (33 to 41 cm) at the shoulder, and weigh 13 to 15.5 lb (5.9 to 7.0 kg); females 11 to 14 in (28 to 36 cm) and 11.5 to 14 pounds (5.2 to 6.4 kg).[4] They are very versatile in families and as family pets

The Border Terrier has a double coat consisting of a short, dense, soft undercoat and harsh, wiry weather and dirt resistant, close-lying outer coat with no curl or wave. This coat usually requires hand-stripping twice a year to remove dead hair. It then takes about eight weeks for the top coat to come back in. For some dogs, weekly brushing will suffice. Most Border Terriers are seen groomed with short hair but longer hair can sometimes be preferred.
On April 21 we brought Riley home, so we've had him just over 2 weeks. He is every bit of the dog we expected. He is alert, tenacious, easily trainable and bright. Anyone who has raised a puppy knows why nature makes them so cute, to give them the veil of protection when they misbehave. Riley has been a quick study so far, he is housebroken, walks well on a leash and (most importantly) understands NO. Time will tell, but I think we have a very welcome new member of our household.
Also from Wikipedia, this describes him to a T - so far.

Temperament

Though sometimes stubborn and strong willed, border terriers are, on the whole very even tempered, and are friendly and rarely aggressive. They are very good with children, but may chase cats and any other small pets.

Borders do well in task-oriented activities and have a surprising ability to jump high and run fast given the size of their legs. The breed has excelled in agility training, but they are quicker to learn jumps and see-saws than weaving poles. They take training for tasks very well, and are extremely trainable, and capable of learning tricks quickly and competently. The border in recent years has been bred to harbor a more subtle character so are more adaptable to apartment living if properly exercised.

They are intelligent and eager to please, but they retain the capacity for independent thinking and initiative that were bred into them for working rats and fox underground. Their love of people and even temperament make them fine therapy dogs, especially for children and the elderly, and they are occasionally used to aid the blind or deaf. From a young age they should be trained on command.

Borders can adapt to different environments and situations well, and are able to deal with temporary change well. They will get along well with cats that they have been raised with, but may chase other cats and small animals such as mice, birds, rabbits, squirrels, rats, and guinea pigs.

Borders love to sit and watch what is going on. Walks with Borders will often involve them sitting and lying in the grass to observe the environment around them.

His registered name is "Jusutsus (just suits us) The Life of Riley" and he has several of champions in his long pedigree. We are not dog snobs, but purchasing from a reputable breeder is a primary requirement.
Here is his first "portrait" from last weekend. I'll link his photo album in my signature when I get enough to start one.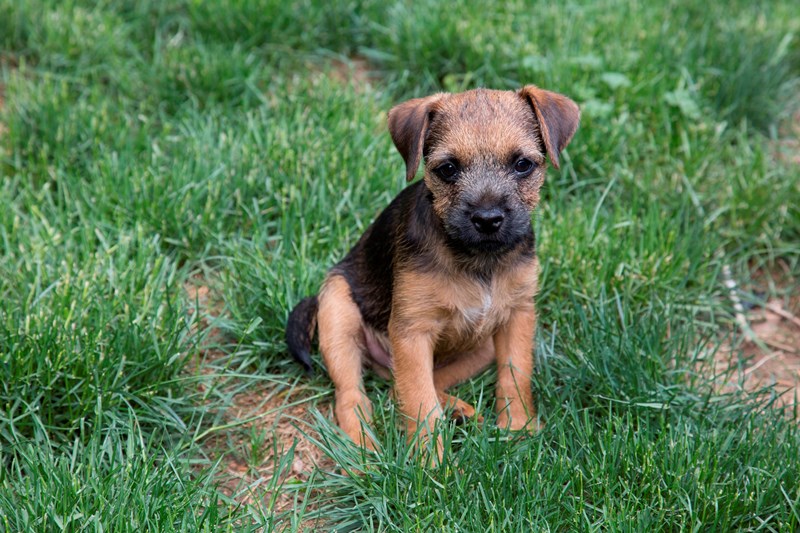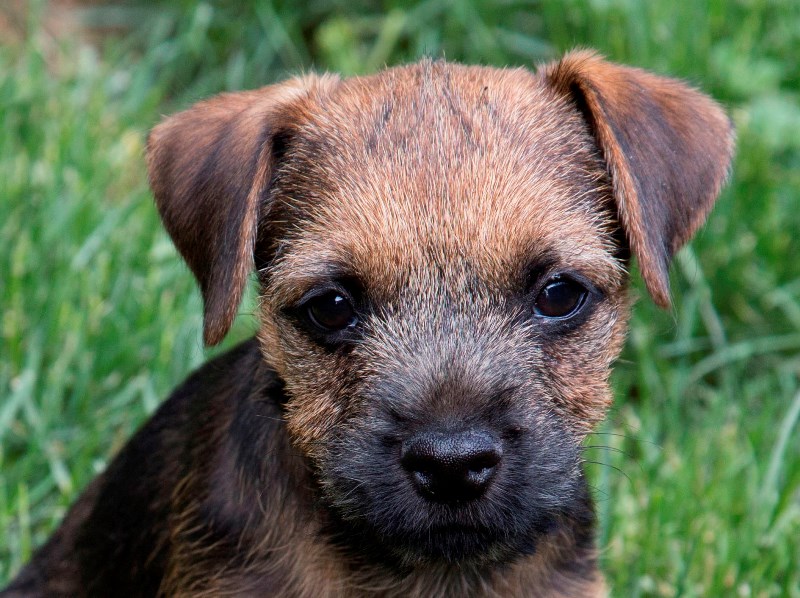 Probably only dog people will understand...