I first posted this in the DirecTV forum because the weirdness came from an element linked to a device from that plug-in, but
spud
thought someone in the HSTouch forum might have an idea what's happening. Crickets in both forums, so I thought I'd try a wider audience.
I have a text field that has its StatusTracking set to the plug-in's Title of the current DirecTV program being viewed. It looks like this, as it should, on all the other clients:
​
​​
I have one old Samsung Note 12.2" tablet from 2014 that the text box occasionally shows an image with a play button. I didn't pay too much attention to it, until one time I hit the button. Check out what it did (lower left of the screen):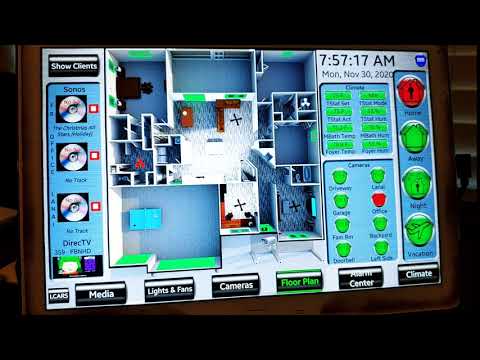 Yep, that was the video feed from DirecTV, but I don't think that should even be possible! I ran to one of the other tablets and took the above pic while the mini video was playing on the Samsung tablet.
It would obviously be useful if there is a way to capture live TV on HSTouch via the DirecTV plug-in, but I can't recreate this intentionally. It doesn't happen very often, and there doesn't seem to be anything consistent in the system when it does.
Here's all the info in case someone wants to hazard a theory:
There's nothing unusual about the text element in HSTouch Designer - it's a button that opens a media control screen on the tablet, and its StatusTracking is set to the DirecTV current title device (see below for screen grab).
The other clients are Fire HD tablets of different flavors, and LG & Samsung smartphones. It only happens on the old Samsung tablet.
The old Samsung tablet does have some issues, specifically with the Sonos plug-in (HSTouch crashes sometimes when selecting music on it), but other than that it functions as expected.
There was nothing unusual/helpful in the HS log or Windows Event Viewer.
I don't think this is an HS3 vs. HS4 or hardware issue. This first happened in HS3 on a high-end Frankencomputer I built. The above video & pic was taken after migrating to HS4 that is now running on a Beelink NUC. Not sure it matters, but here is the current setup in case that helps:
Date/time=12/6/2020 8:46:52 AM Eastern Standard Time
Version=HS4 Pro Edition 4.1.9.0 (Windows)
License=Registered
Confguration File=C:\Program Files (x86)\HomeSeer HS4\Data\HomeSeerData.json
In Virtual Machine=No MFG: azw
Antivirus=Windows Defender
OS=Microsoft Windows 10 Pro - Work Station
OS Version=10.0.18363
Uptime=11 Days 14 Hours 11 Minutes 43 Seconds
Lan IP=192.168.1.213 (HomeSeerServer)
Device Count=701
Event Count=224
Processor:=Intel64 Family 6 Model 61 Stepping 4 at 2.51 GHz
Modules/Threads=153 Modules, 185 Threads
Available Threads=1023
System Load=198 Processes, 8% Load
Free/Total Memory=4.16 GBytes / 7.90 GBytes (53% free)
Free/Total Virtual Memory=3.99 GBytes / 9.15 GBytes (44% free)
HomeSeer Memory Used=125 Mbytes
Plugin Memory Used=15 EXE Plug-Ins using 420 Mbytes
Plugins Installed=AK Bond 3.0.0.49,Alexa 3.0.0.1,BLDenon 2.0.57.0,BLLock 3.0.35.0,BLOccupied 2.0.28.0,BLRoombaWifi 2.0.37.0,BLShutdown 1.0.5.0,Blue-Iris 3.1.3.33206,BLUPS 2.0.26.0,DirecTV 3.0.0.20,DirecTV 3.0.0.20,EasyTrigger 3.0.0.71,MediaController 3.0.0.66,MyQ 1.2020.705.1301,Pushover 3P 0.0.0.52,SmartThings 4.0.15.0,Sonos 3.1.0.53,weatherXML 3.0.1.19,Z-Wave 3.0.2.0
Here is the text element from Designer:
I could just chalk this up to a really old tablet acting weird, but I don't think this is even possible: neither the HSTouch element nor the device it's linked to is a video feed.
It's a total mystery to me. Any thoughts?