Just a quickie note relating to utilizing a GPS for NTP.
Note that utilizing a GPS without using PPS is still providing more accurate NTP time sync than using the internet.
Over the last few years I have used a dedicated NTP server as an internal time base.
Recently migrated firewall over to PFsense and decided to move GPS over to the firewall such that it is the NTP server.
The GPS I utilized for said is the Sure Electronics MB-CM12118.
It is $34.90. It comes with a USB cable for power and GPS antenna.
http://www.sureelectronics.net/goods.php?id=99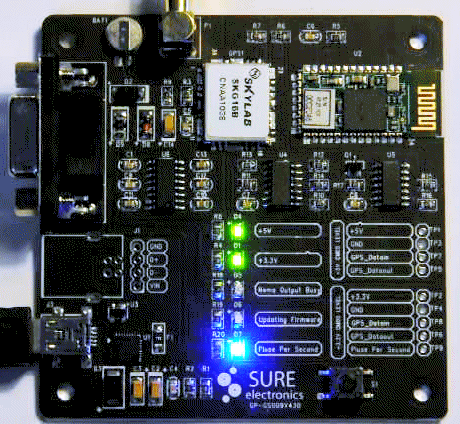 I modified it for PPS putting the pulse on DCD (Pin #1 of the RS-232 interface).
The DIY for two means of utilizing PPS is here:
http://www.satsignal.eu/ntp/Sure-GPS.htm
The GPS is mounted on an attic rafter next to the GPS antenna. Gets 8-12 GPS satellites in about 10-15 seconds. I utilize an RS-232 to Cat5e cable with a connection to the firewall in the basement. The cat5e run is some 75-100 feet.
Recently a PFSense user modified the GPS / NTP configurations to provide a bit more granularity for configuration of the GPS and said use for NTP.
I purchased this board a few years back and it worked fine (without the PPS adjustment) until one day it just quit working. I had a close look at it last week and noticed that the mini power USB port was falling off. That said I wired a new power port. It still didn't work; as the 3.3VDC led wasn't lit. I baked the board in the oven at some 485 F for about 5 minutes and it came back to life. Note that the circuit board baking is a last ditch effort, very low WAF. You have to vent the area while doing this relating to the toxic fumes. You also have to "protect" the pieces on the main board with bits of aluminum foil and not preheat oven; but rather start with the circuit board in the oven. I personally didn't protect a new USB power cable enough. It melted and I had to desolder and install a new one.
You can also make your wintel HS3 server your time base by using Tardis and configuring it at 9600 baud with DCD/PPS.
http://www.kaska.demon.co.uk/
Ideally you want to wire the RS-232 port directly to the Homeseer server. I did test the connection using a Quatech serial server.
PPS modification I used:
1 - Wired PPS from RS-232 Pin #1 to TP-9.
2 - Tested for PPS on DCD using the following application - tested with a Quatech serial port configuration before connecting it to the PFSense firewall.
The purpose of the patches is to provide a true RS-232 level PPS signal on pin 1 (DCD line) of the connector. Whilst the PPS signal on test point TP9 could be used, it is at CMOS level and not RS-232 level, and may not be recognised correctly by the RS-232 receiver chip in your PC. You can try it if you like, of course. I have provided a Serial Port LEDs program to show the status of the RS-232 control lines. Fortunately, there is an unused CMOS-to-RS-232 level converter gate available in U6, with its input on pin 11 and its output on pin 14. However, as this is an inverting gate, and we want a positive going PPS signal, it should be driven with a negative going PPS signal. That available at TP9 is positive going, however it is also used to drive the ridiculously bright blue LED through a CMOS inverter gate in U5, so by taking the output from that inverter on pin 8 of U5 we have the required negative-going PPS signal to drive U6.
One person has reported that he has obtained satisfactory results connecting the TTL-level positive-going signal on TP9 directly to pin 1 (DCD) of the RS-232 connector. This may be easier if your soldering abilities are not as good as you wish, as the connection points are larger and easier to solder to. This does work with the serial ports on many PCs, but may result in a lower protection against electrical noise if you have a long lead from the Sure board to your PC. A couple of metres lead length should be fine for this method, but possibly not an 80 metre run near interference sources such as electrical machinery - i.e. anything with power switches or motors. Try it and see, but use at your own risk.
Simple program to show the state of the serial port LEDs. Intended for watching the pulses on the DCD line from a pulse-per-second GPS used for NTP.
Please note: If you are using Windows for NTP with a PPS signal, the DCD line must flash briefly on, not be mostly on flashing briefly off as inverting the PPS signal is not supported by the Windows NTP port.

http://www.satsignal.eu/software/SerialPortLEDs.zip
The additions for PFSense are here:
http://forum.pfsense.org/index.php/topic,67189.0.html
BTW I have left the GPS board in the attic on a beam tacked on with a drywall screw and the GPS antenna is on the top of the beam next to the GPS board. It is not in any sort of enclosure.