Hi!
I am working on energy management in my home, but I need to learn more.
I want to create a base setting for heating that apply normally, when power consumption are low(any given parametre).
Currently I got 8 consumers under control, and they run on a fixed pre-programmed value set in a HS event, when power consumption is below certain limit.
If consumption exceeds said limit, a HS event reduce temperature setting to a fixed lower value, to prevent heating until power consumption is lower than -X value.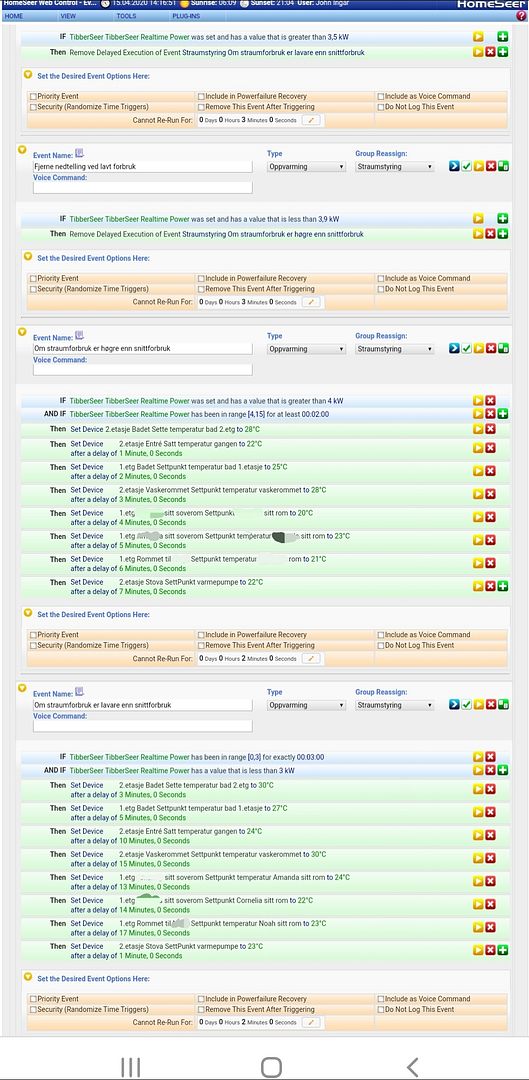 But, it's not very WAF friendly when it is not possible to change settings in the house from the button on the wall.
These are my devices for one heated floor:

I got a setpoint device, that if changed, alter the thermostat-device setting.
If the setting are changed manually on the thermostat, the thermostat-device value changes, but not the setpoint-device value.
One device shows if the floor is active and is heating, displaying on/off.
And then the floor temperature-device, that display the temperature in the floor.
#1: How to make the button on the wall alter the base-temperature setting?
#2: And how to reduce temperature 1degree from this when power consumption is high?
How to build my event logic?
Thanks in advance,