The next group of standard conditions are based upon device values. Remember that that these are conditions and as such a specific trigger must be TRUE before the conditions are evaluated. For the purposes of these examples we are using a time based trigger of midnight. That means that this event will attempt to run once a day at midnight, then it it will evaluate every condition, all of which must also be true before the event will run.

As you can see there are five different choices relating to a device's value. We'll go into the first one with a little detail. It is a condition "This device has been/for at least...". This allows you pick a device and set a value that it would be set to and finally a time setting. The values you are able to pick are determined by the value settings the device supports. Below is a light control that supports dimming and the value drop down has been populated by the values this device supports. This condition is designed to be true if the device meets the value you determine for at least the time set. An example would be to turn a light "Off" if it has been "On" for at least 10m, 0s. Remembering that this is a condition, the trigger must also be met. If you look at the example below the bathroom light will be turned off, if it has been on for 10 minutes (or more) but only if that condition is met exactly at midnight (the trigger). If you turn the light on at 12:01 AM, it will stay on until the next trigger - 23 hours and 59 minutes later.

As was stated above the choices of value are determined by the values the device supports. Below we are using a dimmable light control as an example.

If you choose Off, On, or On Last Level you are done.

if you choose a Dim (value)% you will be given another drop down allowing you to choose a dim value.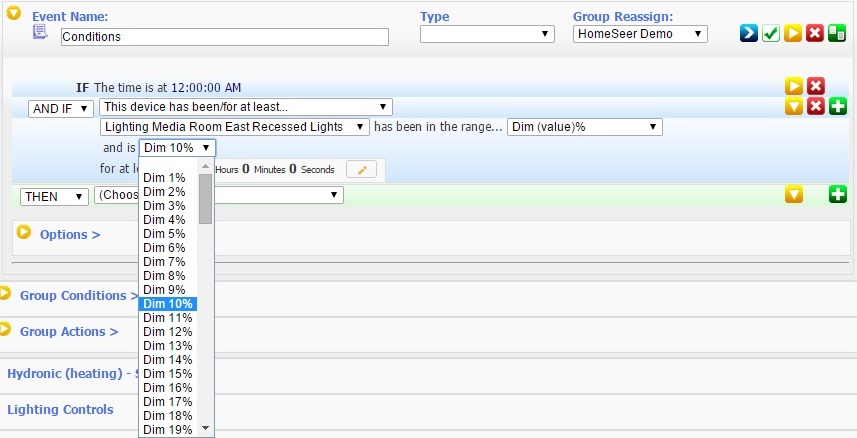 The last four choices have to do with a device being set to an exact value, any value other than an exact value, a value greater than an exact value or a value less than an exact value. A dimmable light condition of "not equal to Off" would be true at any dim level (including On). A condition of "greater than Off" would give the same result. A condition of "less than Off" or " Greater than On" would never be true. Below are three examples showing how the value choices change based upon the values supported by a specific type of device. First is a dimmable light control.

Then a temperature reporting device.

Or a device that measures luminance. You will note that the choice is "greater than a value in the range...", this is a little misleading. A range is not allowed, you will be prompted for a specific value.