As with triggers, each plug-in you install may provide additional conditions. For now we will just cover the conditions provided with the base program and attempt to further clarify how conditions and triggers differ. The first group of conditions are time based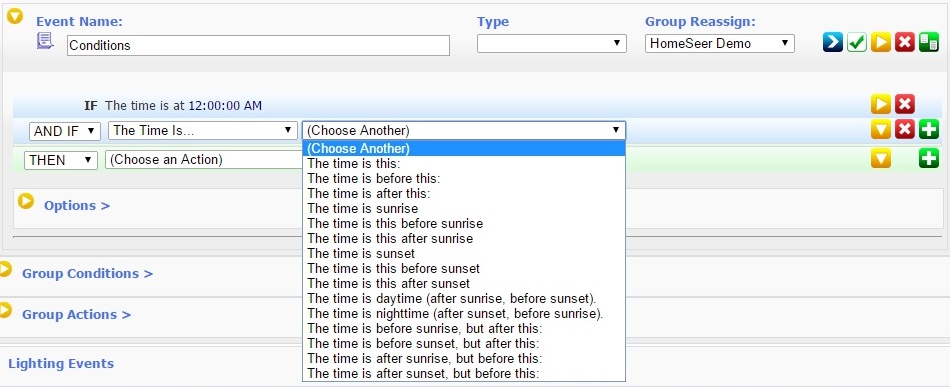 The first thing you will notice is that there are a lot more time conditions, than time triggers. This is possible because conditions do not need to be a moment in time, but can cover a range of times. There are some of the choices that are specific like triggers such as
The time is this:
The time is sunrise/sunset
The time is this before sunrise/sunset
The time is this after sunrise/sunset
The rest of the condition choices cover a range of times.
This concept is extremely important in HomeSeer. For the execution of event conditions the day begins and ends at midnight.
This concept really affects certain conditions such as
The time is before this: really means if the time is after midnight but before this:. So if you set the condition the time is before 6:00 AM it is the same as stating the time is between midnight and 6:00 AM.
The time is after this: really means if the time is after this: but before midnight.
The last four follow the same rules so The time is before sunrise but after 9:00 PM will not work because midnight divides the day. The lone exception to the midnight rule is: The time is nighttime (after sunset, before sunrise). This condition by design ignores the dividing line at midnight.
The only way to have a time condition that spans the midnight dividing line is to use two separate conditions. To have the condition cover the time span from 11:00PM until 3:00AM is to use a more complex event construction tool, the OR IF. That is a topic we will cover later in building events, but it is in its simplest form:
IF
Trigger
AND IF The time is after 11:00PM
OR IF
Trigger
AND IF The time is before 3:00AM
When you choose conditions such as the time is this before sunrise, the time is after this or any other choice that requires a specific value entry, will prompt you to enter the value. As illustrated in the following two screenshots. First you select the time in the prompts

After you have made your selection, the condition will be populated with the time. Obviously we have created an event that would
never
run.