This is a powerful tool that will allow you to create a condition or several conditions that can be applied to events within a specific group.

The group conditions can be selectively be applied to events within a group. The group conditions are not automatically applied to events within a group, but you can selectively add a condition to any or every event within the group. You MUST add the Group Conditions Condition to EVERY event in which you want to evaluate the Group Conditions. The condition can evaluate whether the group conditions are ALL true or ALL false. Remember it is all or none, if there are three conditions with two true and one false, the Group Conditions Condition will always be false and the event will not run.
Add the condition to an event, then click on the orange triangle to expand the group conditions option.

After you have expanded the Group Options section you can add the conditions you want to selectively apply to events within this group. You will notice it says "(Choose a
Trigger
or Condition)", this is a misstatement, your only choice will be among conditions. Using a trigger as a condition would in almost every case cause an event to fail. You will notice that the choices and the values within the choices are the same as event conditions. Each group you define within your events can have different group conditions and each event within a group can have the conditions selectively evaluated and applied. Obviously if there is only one condition, it would make more sense to put it individually within the event, but if there are two or more conditions that may apply to several or all events within the group, group conditions may save you some time when creating or remove clutter from your events. Another advantage is that you can make a change to the group conditions and affect a large number of events.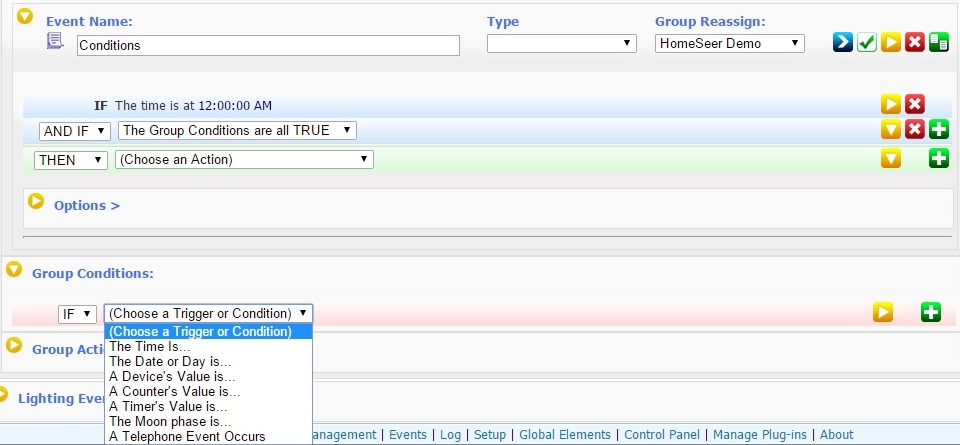 Below is an event that could be used within a motion control event group where we want to only run the event if it is a weekday and is during the period of nighttime. You could build a number of events within this group and make a decision as to whether these group conditions would apply on an event by event basis. Below is the event expanded.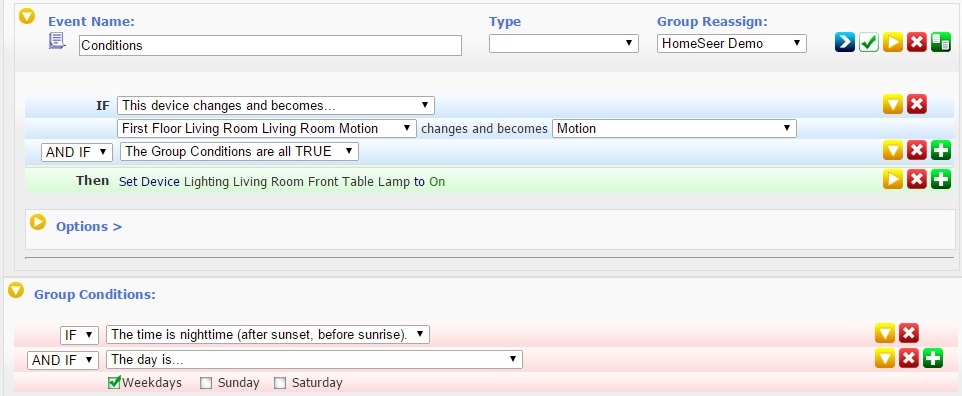 Here is the event and group collapsed to show you concisely what will happen. Also note that you could make the event condition based upon the group conditions all being FALSE making the event only run if there was motion in the daytime and on a weekend (NOT Weekday and NOT Nighttime).


If there are group conditions to be applied to events and the Group Conditions option is collapsed, there will be a green check mark to remind you that there are conditions defined.

If you have created Group Conditions, but they are not applied to any events within that group, you will get a waning triangle. As is the case of most icons on the event management page, if you hover over the triangle you will get a tool tip explaining the meaning.