Actions
are the final element of an event. After the requirements of the
Trigger
have been met, the
Conditions
have been evaluated and are all true, the Event will perform an action or group of actions.
There is a core set of actions that are provided with the HomeSeer 3 installation.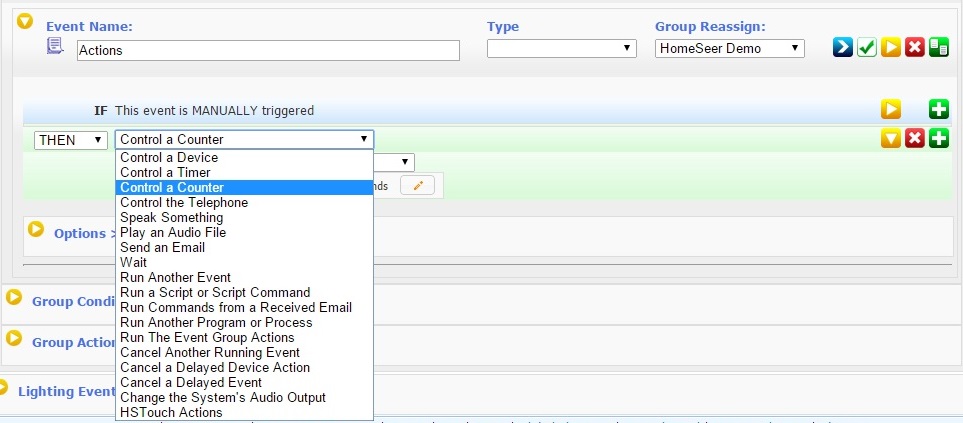 As with Triggers and Conditions as you add plug-ins the list will be expanded. For the sake of this discussion we will cover only the group of actions above that are provided with every HS3 installation. There is a unique feature of Actions where some of them will present you with
Advanced
options. The first topic in this list of actions will be "Control a Device" and in that topic we will cover Advanced options in detail. In all the rest of the Actions we will show the Advanced Options available and briefly discuss them.
It is important to understand the two symbols: the blue bird

represents basic editing and the red airplane

represents advanced editing. There is a little inconsistency in the way the icon is treated. At the top of the events within a group there is a bar with four icons. The third from the left changes all events in the group from basic to advanced or from advanced to basic. If you see

it means all events are in the Advanced editing mode, clicking on it will change it to basic editing.

Conversely if you see

it means all events are in the Basic editing mode, clicking on it will change it to Advanced editing.
Yet if you see

under the Actions in the event, you have to click on it to
Enable
Advanced editing.

The following screenshot illustrates the slight inconsistency. The blue bird at the top indicates the events are in the basic editing mode, but the red airplane within the event is what you click on to enable Advanced editing.
There are two options for actions: "THEN" and "NEVER".

THEN will execute the action if the trigger and condition(s) are true. NEVER is an option to disable a single action for the purposes of troubleshooting or analyzing an event. It provides a means of disabling an action without deleting it. Below is an event with two actions - only the second action will be executed, the first will be skipped.

Every Action has different options and the options related to a specific Action will be covered within the post covering that topic. As was said above the way to enter and exit Advanced editing will be covered in detail in the first topic below "Control a Device"