Control a Timer
When you choose Control a Timer for an action, you are presented with a second line where you can Create/Edit Timers, pick a timer that you have already created and select the action for the timer

If you choose Create/Edit Timers you will be presented with a popup where you can create a new timer -OR- select among timers you have already created.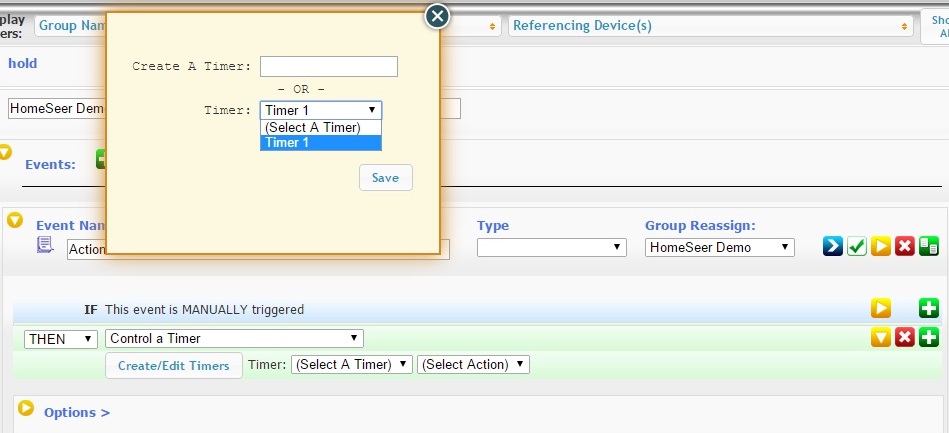 If you enter a new name in the dialogue it will check that it doesn't already exist and then create a new one.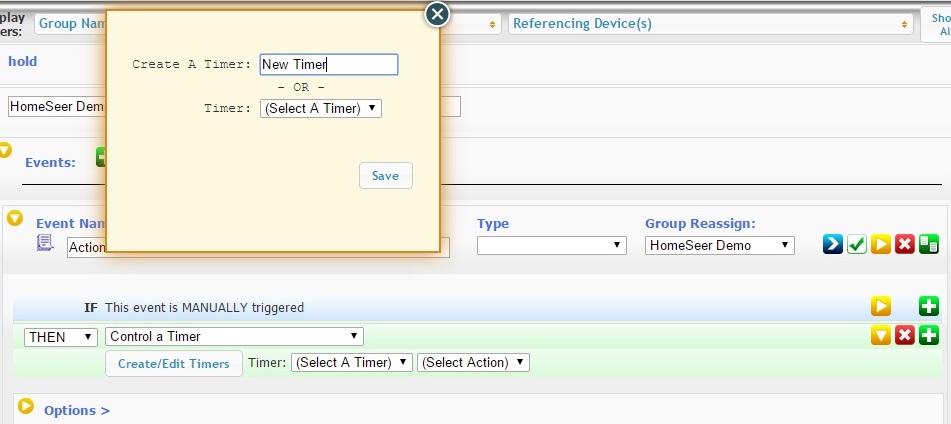 When you click "Save" on the dialogue, your new timer is created and will be selected as the timer of choice.

If you click on Create/Edit Timers with a timer selected, the popup dialogue will offer you the additional option to rename it.
There are only four actions available for controlling a timer. A timer always counts UP or measures elapsed time.

Set timer - allows you to set the timer to the value of your choice. It is the only action that presents you with the additional dialogue below to enter the value you wish to set it to. If you want to reset the timer without starting set it to 0d, 0h, 0m, 0s.
Restart Timer - Sets the timer's value to 0 and starts it running NOTE: when collapsed this action will change to "Start Timer <timer name>"
Stop Timer - will stop the timer, but retain its current value
Resume Timer - will start the timer running from whatever its current value is, it will not affect a running timer

Timers can be useful in many different events, since a timer's value can be used as a
Trigger
or a
Condition
. You can maipulate the timer from Actions in one event and use it to trigger Actions in another.