23rd of June, 2019
Did a test of the new LED lamps last night.
This will be hidden / recessed inside of the top rail facing down.
Current deck lamps using .25 watt warm white 12 Volt LED bulbs with these 1/2 dome style lamps which were converted from using 7 watt bi-pin to .25 LED bi-pin lamps.
Personally have not dented these. Helped a neighbor install them and today they many all dented from moving deck furniture around.
Got a bulk buy deal on these years ago. I am not sure what the prices are today. I do not like the new ones that are all in one with LEDs as I would not know how to replace them should they go bad other than replacing the whole lamp fixture. I have not replaced the bi-pin LED lamps to date (years working just fine in the winter and summer here).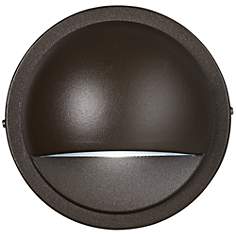 New methodology for this lighting will be indirect lighting between the two top boards under the railing about 1" high so that it lights up the deck floor indirectly.
Tested this last night and it looks good. These are 3 LED bulbs embedded in a sort of epoxy made for outdoors and less than a watt per set of 3 warm white lamps.
Here is a drawing. Note here you do not see the LED bulbs as they will be recessed about 1" up. Facing down like this illuminates the floor of the deck more than anything and you do not see them.
Note this is a bit of over engineering these lamps. I already have a LV run of 16 guage wire hidden three on the top of the rails.
Spacing these via night time illumination footprint (4-5 feet on either side in test mode) at 100% brightness.
These will be dimmable and remote controllable via MQTT and a modded Magic home controller.