Hi!
I am using Homeseer to flat-out peaks in power consumption.
I need to log my average consumption over one hour, all hours a day.
Every hour from 00-59.59. (Hour 17: 17.00 - 17.59.59, Hour 3: 03.00 - 03.59.59 etc.)
I need to log all average values or "new record" hours from >this< month's consumption, from 1st of the month to the last date hour 23.
I need to use the hour with the highest consumption >this< month as a trigger.
My ultimate target:
I don't want to make new power consumption average records so:
When power consumption >this< hour is getting close to the highest average hour >this< month, do not heat until next hour.
A part of my electricity bill are calculated out of THE hour every month with the highest consumption.
It looks like I got around 30dollars to save every month getting this perfect.
I got eight heating sources. How do I create a logic that makes room for randomized order on what heating source to heat and what source to disconnect at high power consumption? Possibly with the known consumption value registered, so that when this amount of overhead is available, that heating source can turn "ON" and continue heating until thermostat stops heating or if power consumption increases too much and heat needs to turn down to the lower temperature setting once again.
The goal is not necessarily to save power consumption, but to prevent peak power consumption..
What can be done with the Easytrigger plugin?
The current solution is to describe a fixed consumption value and react accordingly to prevent power peaks.
20 highest values in April: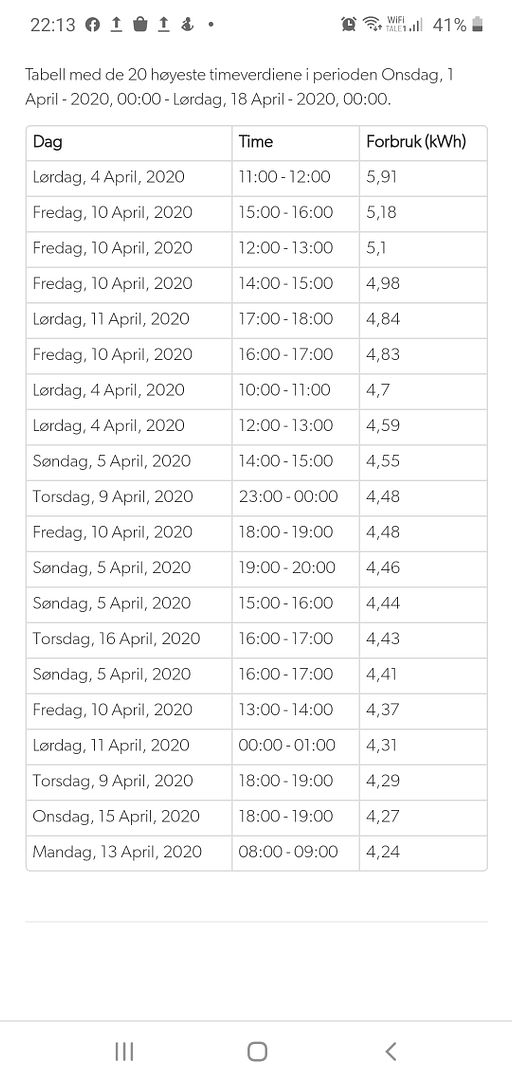 I can't get my head around doing this, hoping for guidance.
Best regards
John